Gordon Mansfield, advocate for veterans, dies at 71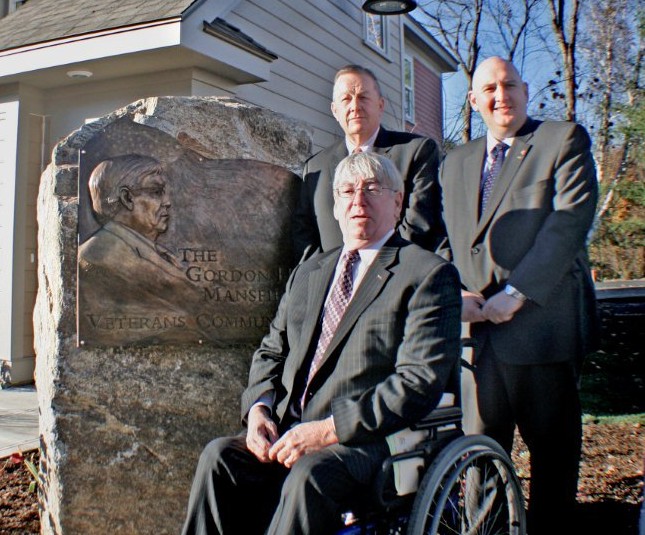 PITTSFIELD — Distinguished veteran and veterans advocate Gordon Mansfield, the namesake of Pittsfield's Soldier On facility for homeless veterans, died on Jan. 29 due to aortic disease at the Veterans Affairs Medical Center in Washington D.C. He was 71.
A Pittsfield native, Mansfield left the Berkshires when he was 14 after his father got a job in New Jersey, according to a friend. In the years to come, he would earn his law degree and serve two tours in Vietnam, where he was wounded near the spinal cord, an injury that put him a wheel chair for the next 45 years. Despite the physical challenge, he would go on to become the deputy secretary of the U.S. Department of Veterans Affairs from 2004 to 2008.
He wouldn't forget his hometown during his ascent through Washington, D.C. He would become an invaluable liaison for veteran support nonprofit Soldier On, said Soldier On President and CEO John Downing.
Downing said Soldier On probably wouldn't be providing housing for veterans had it not been for Mansfield's inspiring words: that the veterans who enlist in the military are all openly stating that they would be willing to die on his behalf.
"It changed my whole understanding about what I needed to do help veterans," Downing said.
Downing, who first met Mansfield in 2003 and remained friends until he died, said that Mansfield was an invaluable liaison between the government and Soldier On, even after he retired.
Downing said that all Soldier On facilities are scheduled to bear Mansfield's name. He also said the success of the organization was largely attributable to Mansfield.
"It was really based on me standing on his shoulder and him pushing us up there. There was no limit to what he would do for veterans," said Downing, who said Mansfield provided "access to a whole level of administrative government."
No matter how far he'd come in life, Gordon Mansfield's second wife, Linda, said the accolades didn't matter: her husband always attributed the success to others, including to herself.
Friends say that one of Mansfield's proudest achievement was marrying Linda.
"He exemplified everything that is great in this country," Mrs. Mansfield said. "The values of hard work and doing the right thing and thanking God every day for your blessings. He was a religious man."
Over the course of his career, Mansfield held a senior poition at the Department of Housing and Urban Development from 1989 to 1993 and then served as the executive director of Paralyzed Veterans of America from 1993 to 2000. Before becoming deputy secretary of the Department of Veterans Affairs, he was assistant secretary of congressional and legislative affairs for the department.
During his military career, Mansfield was recognized with combat decorations a Bronze Star and two Purple Hearts, along with others. He was an early advocate for the disabled assisting with the legislation that became the Americans with Disabilities Act, according to his wife.
Mrs. Mansfield said contributions on behalf of her husband should be made to the veteran support groups Fisher House, Wounded Warrior Project, Paralyzed Veterans of America, or Soldier On.