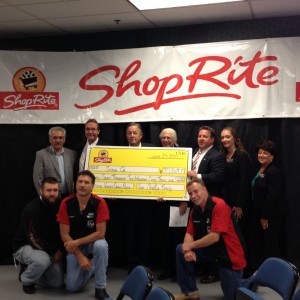 A benefit concert featuring The Charlie Daniels Band and Marshall Tucker Band at the Times Union Center last month raised more than $37,000 for Soldier On. At a press conference held on June 25th, the check was presented by Albany County Executive Dan McCoy, Shop Rite representatives, and Bob Belber, general manager of the Times Union Center. Earlier in the day, a motorcycle run and street festival were organized by Pearl Street Jam. The donations will be used to build a campus at the former Ann Lee Home, which will serve as permanent, supportive, sustainable housing for formerly homeless veterans.
Jack Downing, President/CEO of Soldier On stated, "We need to galvanize the community around the issue. We need to work with the legislature to make sure everybody's understanding is satisfied and that the people see this is a project that will not just benefit the veterans we serve, but the entire community."
Albany County Executive Dan McCoy stated, "This nation's never called more on its citizen soldiers than it has in the last 12 years. All these troops have done is train to go to war and to fight, and now they're coming off active duty at high numbers and they're looking for assistance. They're looking for help. We need to be that crutch."
The project is slated to begin construction within 18 months and will provide permanent housing for over 100 formerly homeless veterans. Like the Gordon H. Mansfield Community in Pittsfield, MA, this cooperative will provide veterans with case management, substance abuse counseling, mental health services, employment and training, and transportation.
Soldier On looks forward to building more veterans housing in Albany and is incredibly grateful for the extreme generosity shown by the people and public officials throughout the entire benefit.