On Saturday, October 29th Berkshire Bank presented Soldier On with a $6,675.00 donation derived from the Military Checking Account Promotion.
Kiwanis' Park of Honor Program Continues to Grow
Andy McKeever
In its third year, the Kiwanis Club of Pittsfield has gotten even more flag sponsors and has filled Park Square and even expanded to a park in Sheffield.
The organization has sold more than 740 flags in honor of veterans, the profits of which will go to college scholarships for children and grandchildren of veterans.
"The best part of the project is it is growing and it keeps growing," said Chairman Real Gadoury, who said more than $24,000 will be raised through the local effort.
"Now we have at least five states where they do the same thing we do here."
In Park Square, 640 flags are flying, each with its own dedication to a veteran. Another 100 will be in Sheffield. But, all of the money raised will stay right in the Berkshires, helping the families of veterans here.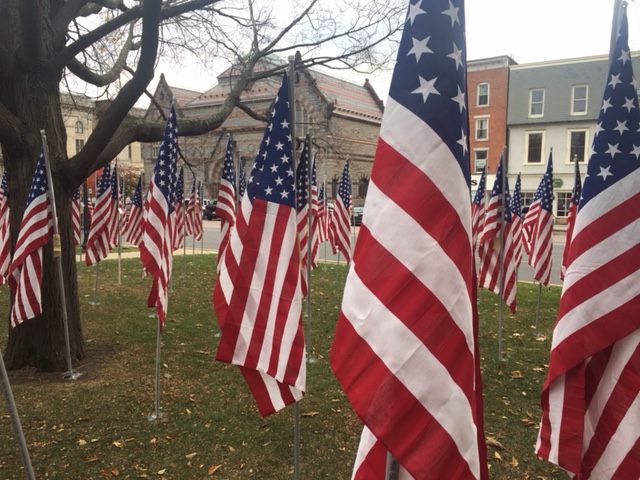 "This is all about the veterans," said local Kiwanis Club President Jack Nogueira. "We are a nation of the free but we will not be able to maintain that unless we have these men and women fighting to keep the enemy away."
The Park of Honor program started three years ago with the hope of selling 200 flags. The club sold 523, which allowed it to give out a dozen $1,000 scholarships. Last year, 670 flags were sold translating to $24,000 in scholarships. Now, the club has surpassed that figure. Next year, Gadoury said he hopes to see this program be replicated in more cities and towns in Berkshire County.
Mayor Linda Tyer says of all the compliments and praise she hears about the city, the flags are the most talked about. The flags are flown in the park throughout the month of November.
"I am proud of our city and our citizens," she said, after telling a story of a wounded veteran who despite losing a foot was able to climb Mount Everest.
The story focused on the family of that man and Tyer used it to illustrate how families of veterans have "profound experiences" — something she knows firsthand from being the daughter of a career military man.
The program of speakers on Saturday kicked off the monthlong honor. Additionally, Berkshire Bank presented a $6,675 donation to Soldier On. The figure was derived from $25 per veteran who opened a checking account with the bank.
"If anything good can come from war, it is that this happens for guys like me," said Cory Bazinet, a veteran presenting the check from the Berkshire Bank Foundation said.
Soldier On is a transitional housing development for homeless veterans. CEO Jack Downing used the ceremony to announce that Soldier On is building a dozen more units at its West Housatonic Street campus specifically for women veterans. It'll be the first village for veteran women.
The nearly hourlong ceremony drew a substantial amount of people, who filled up most of the park. Kiwanis had been working on all morning installing the flags and the ceremony featured patriotic songs, Taps, a rifle salute, a missing man table ceremony, and a number of speakers.
"I am very, very proud to be here to see this sea of red, white, and blue, said George DeLisle, Kiwanis Club district manager.