Soldier On would like to give a HUGE Thank You to the members of the Blood Brothers band.
On Saturday, January 14, 2017 the Blood Brothers band held a benefit concert at Joanna's Restaurant in Somers, CT on behalf of Soldier On. All proceeds from tickets sales and the various raffles were donated directly to Soldier On. The event raised over $17,500.00. Sponsors of the event include; Bee-Line Corporation, Attorney Bruce E. Devlin of Crear, Chadwell, Dos Santos & Devlin, P.C, Thomas Wilson Enterprises, Inc., JD Rivet & Co., Inc., Maybury Material Handling, Harry Grodsky & Co, Inc. and Forastiere-Smith Funeral Home.
In addition, Rock 102 mid-day host, Dan Williams, graciously MC'd the event. Williams is a former U.S. Marine.
The Band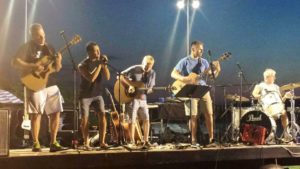 The Blood Brothers were formed in 2013 by Tim Tomko and Bruce Devlin, who are the two lead singers and also play guitar. In 2014, the two more members joined the band, Kim Cole, drummer, and Jeff Sullivan, bass and keys.  The band plays a diverse library of cover music in addition to original songs.