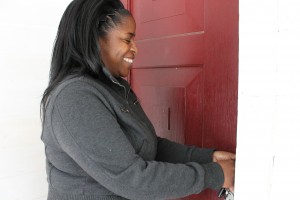 Melody Albert grew up in Brooklyn, NY. She joined the Army in November of 1999 and after three years of service was honorably discharged to Atlanta. It was in Atlanta that Melody got married and gave birth to her daughter. Melody lived here with her family for fourteen years before moving back to Brooklyn. Her marriage ended in divorce and she lost her house due to a foreclosure and she and her daughter moved back to Brooklyn to stay with family. Melody heard of the Soldier On Supportive Service for Veteran Families (SSVF) program through a friend and relocated to Schenectady. While staying with her friend in a van in Schenectady, Melody called Soldier On for assistance. Soldier On case manager Geoff Raiti met Melody at her friend's house and enrolled her and her daughter in the SSVF program. Geoff and Melody created a housing stability plan together and Melody began looking for an apartment.  Geoff worked closely with the VA and VSO in the area to connect her with other community services that she was eligible for.
Melody posted an ad on Craigslist saying that she was looking for a place to rent. The landlord contacted her and she and Geoff went to look at the apartment in Ballston Spa. The two bedroom apartment was perfect for her and her daughter. Geoff was able to work with the landlord to assist Melody so that they were able to move in and Melody began looking for a job. Soldier On was also able to assist Melody to furnish her new apartment with furniture that was donated by a hotel in the Albany area.
Melody worked closely with Soldier On's Homeless Veteran Reintegration Program (HVRP), the VA in Saratoga, and the Saratoga County Veteran Service Officer (VSO) to find a job.  She was assessed and enrolled into HVRP by Soldier On job developer, Michael Brinck.  She was hired into a full time position at Angio Dynamics in Glens Falls where she is still working today.
Melody explains her transition as "a little rough but it's a blessing. I'm happy."
Geoff and Mike continue to call Melody periodically to check in on her and her daughter and their new puppy, Platinum. Melody appreciates the follow up, "I'm not just another number or another vet." Melody and her family are safe, comfortable and happy. She has a job and her family has a home.