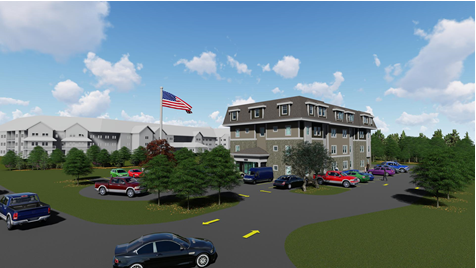 Tuesday, the Baker-Polito Administration awarded more than $31 million in direct subsidies, tax credits, and housing vouchers to support the development and preservation of 11 housing facilities in Massachusetts, including 237 permanent housing units and 200 shelter beds for families and individuals. Since 2015, the Permanent Supportive Housing Program has produced or preserved more than 3,500 permanent supportive housing units for families, individuals, veterans, seniors, and individuals with disabilities. 
Each year, the Department of Housing and Community Development (DHCD) works with the Community Economic Development Assistance Corporation (CEDAC) to distribute capital funds as well as project-based housing vouchers to pay for supportive services through a competitive process administered by the agency's Supportive Housing for Vulnerable Populations program. These supportive services support veterans, older adults, persons with disabilities, individuals and families who have experienced homelessness, as well as unaccompanied youth. Specialized services may include childcare, mental health services, job training, case management, and other services for vulnerable populations.
Soldier On has been award $3.9 million in DHCD funding to build 21 units of affordable permanent supportive housing in Tewksbury, MA. The development has over $5.3 million in commitments from the state, Town of Tewksbury Affordable Housing Trust, Berkshire Bank, Federal Home Loan Bank (FLHB), and Soldier On equity.
Soldier On, based in Pittsfield, MA, is dedicated to providing and coordinating an extensive continuum of housing and support services for veterans who are homeless or at-risk of homelessness. The project, the Gordon H. Mansfield Veterans Community will be the organization's eighth permanent housing facility for veterans since it was founded in 1994.
The community is named for the late Gordon H. Mansfield, a highly decorated Vietnam War veteran who served as Deputy Secretary of Veterans Affairs, as well as Assistant Secretary for Fair Housing and Equality Opportunity at the Department of Housing & Urban Development. During his military service, Mansfield earned the Distinguished Service Cross, the Bronze Star, three Purple Hearts, the Combat Infantryman Badge, and the Presidential Unit Citation.
"Soldier On is able to continue to build on our promise of ending veteran homelessness," said Soldier On CEO Bruce Buckley. "The support from DHCD, the town, Tewksbury Home Build, Senator Barry Finegold, Rep. David Robertson, Rep. Vanna Howard, U.S. Congressman Seth Moulton, and Steve Bohn (Office of U.S. Congressman Moulton) has allowed for veterans in Middlesex County to succeed in securing safe, affordable, permanent housing. Soldier On is grateful to all who helped make this a reality."
Soldier On became the development lead for this project at the invitation of Tewksbury Home Build, a local housing nonprofit that gained control of the site through a town-supported process of creating affordable housing. The development is located at 1660 Main Street, adjacent to Heatherwood Gracious Retirement Living. The new four-story,18,565 sq. ft. building will provide 21 units of affordable permanent supportive housing for veterans who are homeless or at-risk of homelessness. All units will be fully furnished and include internet, cable, utilities and one meal per day. The facility will have a "Let's Talk Interactive" telehealth kiosk and transportation provided to bring residents to appointments.
"So thrilled the state has awarded Soldier On the funding to move forward and provide supportive affordable housing to the veterans of Tewksbury and the Merrimack Valley. It will be a great addition to the town." Vincent Fratalia, Tewksbury Home Build Board Member.
Construction will begin late Fall 2022, with a planned opening in Fall 2023.
Development Team
Sponsor / Developer: Soldier On, Inc.
Property Management: Soldier On Development & Management, Inc.
Pre-Development and Acquisition Lender: CEDAC
Architect: Gavin & Sullivan Architects, Inc.
General Contractor: Groom Construction
Civil Engineer: Civil Design Consultants, Inc.