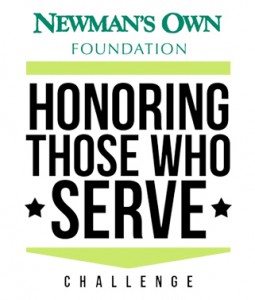 We're super excited to let you know that we're part of the Honoring Those Who Serve Challenge. The Challenge is a fundraising campaign being launched by Newman's Own Foundation. The Foundation is proud to continue Paul Newman's commitment to help the military community – those who have given so much of themselves, who now face critical needs.
To give back, Newman's Own Foundation will be donating $180,000 to organizations like ours focused on empowering military personnel, veterans and their families. <br.
The charity that raises the most throughout the Challenge will get a $75,000 donation from Newman's Own Foundation. Second place gets $50,000 and third gets $25,000. We're out to raise as much money as possible for our cause so we can win that $75,000 grand prize donation.
We think we can win and to do so, we definitely need your help. We'll be sending emails throughout the Challenge and we'll be asking for you to give. Every donation makes a difference, no matter how small.
To help now, please Click Here and give whatever you can.
Or, if you want to go one step further, Go Here and click 'Create Your Fundraiser.' In seconds, you'll have your own fundraiser that you can share with all of your family and friends so that you can raise money for our cause too.
Please email CrowdRise at NOF@CrowdRise.com if you have any questions at all and they'll help solve everything.
Thanks so much for your support.