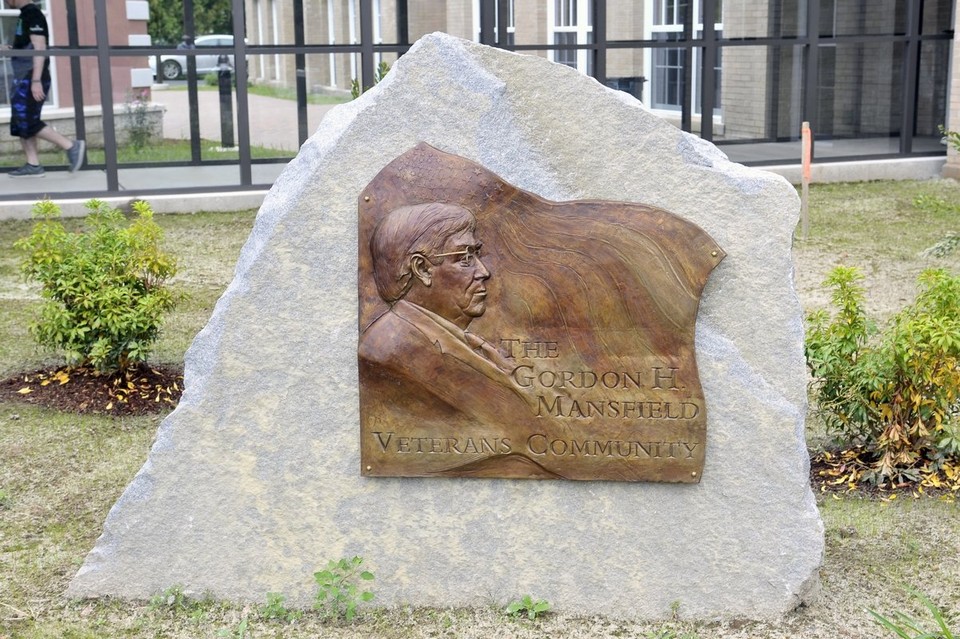 Completed Gordon H. Mansfield Veterans Communities
Click here to apply to our Gordon H. Mansfield Veterans Communities
Agawam, MA
In September 2017, Soldier On opened 51 permanent housing units in the newly renovated former Western Massachusetts Regional Police Academy at 702 S. Westfield Street in Feeding Hills, MA. Each unit contains a kitchen equipped with a stove top, a convention microwave oven, and refrigerator with a living area and separate bedroom. In 2009, State Representative Rosemary Sandlin and Senator Stephen Buoniconti filed legislations to allow Soldier On to acquire the site for the development of affordable housing. The property was transferred to Soldier On in July 2010. The project is financed through state funding and includes low income housing tax credits.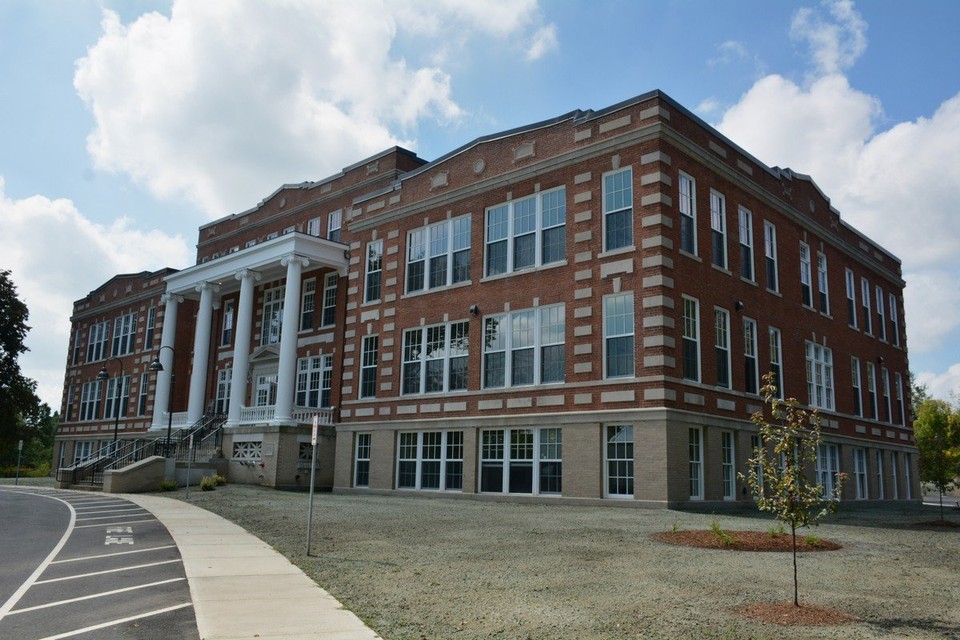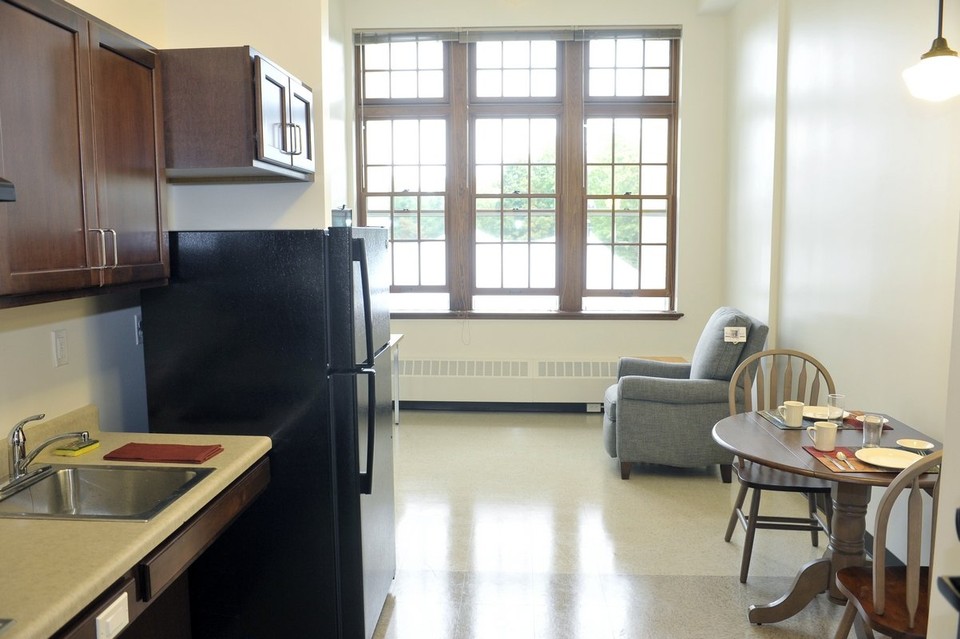 Chicopee, MA
O'Connell Construction renovated the former Chapin School at 40 Meadow Street in Chicopee, MA into  43 units of veterans housing run by Soldier On. The project was completed in August 2016. Each unit contains a kitchen equipped with a stove top, a convention microwave oven, and refrigerator with a living area and separate bedroom.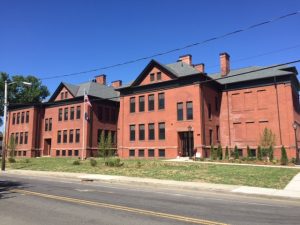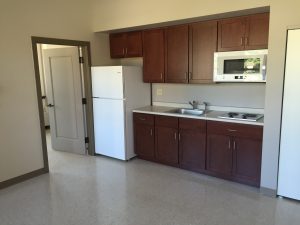 Northampton "Leeds", MA
Soldier On built 44 permanent ownership units on the campus of the Veterans Affairs Medical Center in Leeds, MA. In partnership with the Department of Veterans Affairs on this project and utilization of financing through the VA's VAi2 Innovation Initiative. The project features highly effective modular construction and are Leadership in Energy and Environmental Design (LEED) Gold certified. Each unit contains a kitchen equipped with a stove top, a convention microwave open, and refrigerator with a living area and separate bedroom.  Occupancy of the 44-unit cooperative began in August 2016.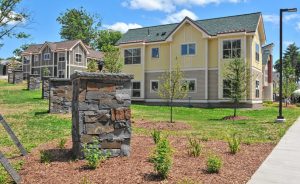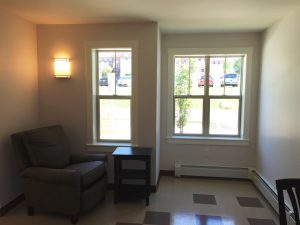 Pittsfield, MA
Soldier On built, the first-of-its-kind, award winning Gordon H. Mansfield Veterans Community is a national model for providing homeownership to veterans. Each unit contains a kitchen equipped with a oven stove, and refrigerator with a living area and separate bedroom.  Occupancy of the 39-unit cooperative began in October 2010.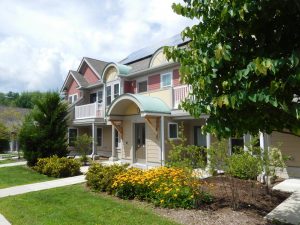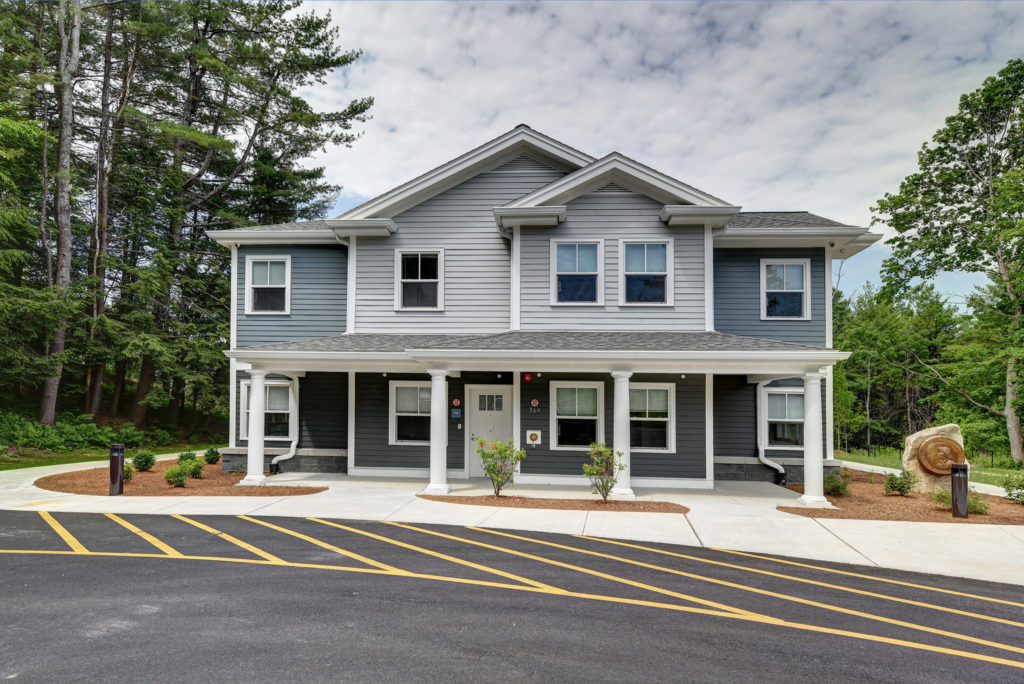 Katie Doherty Veterans Village
Pittsfield, MA
The first women's permanent housing cooperative project built in the U.S. designed specifically to address the unique needs of female veterans, Soldier On's new Katie Doherty Veterans Village in Pittsfield, Massachusetts, offers a safe, affordable, sustainable permanent place to live a peaceful life in a caring community.
Residents of the Katie Doherty Veterans Village enjoy the true independence of homeownership in brand new, fully furnished, one-bedroom apartments that are Energy Star® certified for efficiency, and feature environmentally-conscious design and construction. The 14-unit facility offers safe, affordable, sustainable permanent housing for low-income female veterans. It's an ideal solution for those individuals who are capable of living independently, but who need affordable housing in a more supportive environment. Soldier On offers an array of services to all veteran residents, including case management and a Life Skills program with a comprehensive curriculum designed to improve residential stability, increase skill and income levels, and promote independent living and wellness. Our unique housing programs foster a sense of camaraderie and peer support with a focus on community involvement.
Permanent Housing Projects in Development
Tinton Falls, NJ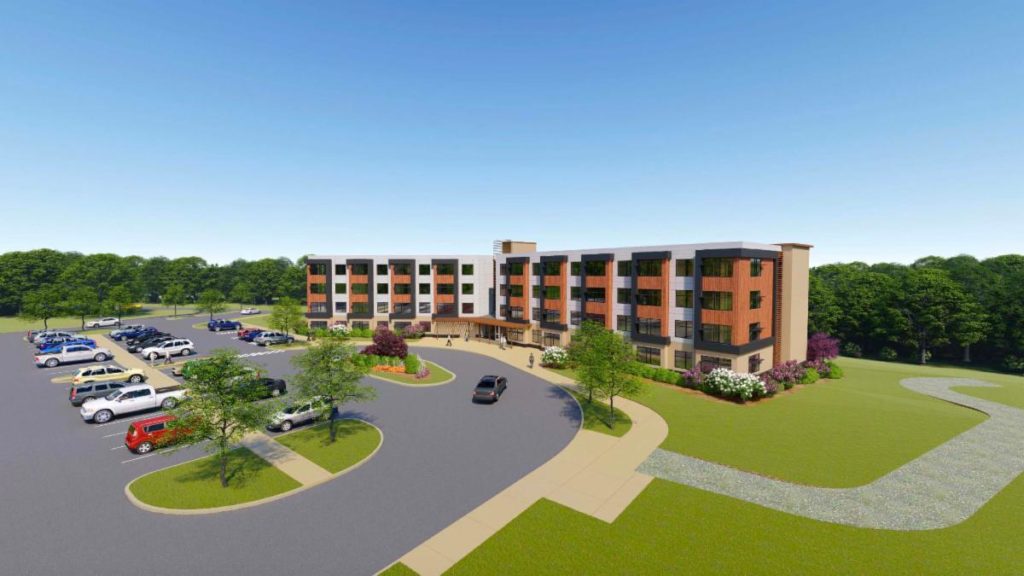 Soldier On has partnered with WinnCompanies on the development of a four-story building with 70 one-bedroom apartments that will be available at a range of income levels –18 units will be available to individuals earning up to 30 percent of Area Median Income (AMI); 24 will be designated at 50 percent of AMI; 10 at 60 percent of AMI, and 18 at 80 percent AMI. The $23 million project is supported by the NJHMFA, which will provide construction and permanent financing from the Agency Revenue Bond Financing Program and a subsidy mortgage loan commitment from the NJHMFA's Multifamily Rental Housing Production Fund; low-income housing tax credit equity provided by Bank of America; a subordinate mortgage from Federal Home Loan Bank New York Affordable Housing Program; HOME funds from Monmouth County, NJ; project-based rental assistance from the New Jersey Department of Housing Assistance; and, a deferred developer fee.

The development will include a community room, offices, mail area, common laundry, and an exterior courtyard with benches and grills. Public transportation in the immediate area is provided by New Jersey Transit, which offers both train and bus services. The development site is within walking distance of the Jersey Shore Premium Outlets, Walmart Supercenter, Twin Brook Golf Center and several restaurant chains.

The development is expected to be ready for occupancy by November 2021.

Interested in becoming an applicant? Fill out this questionnaire.
Tewksbury, MA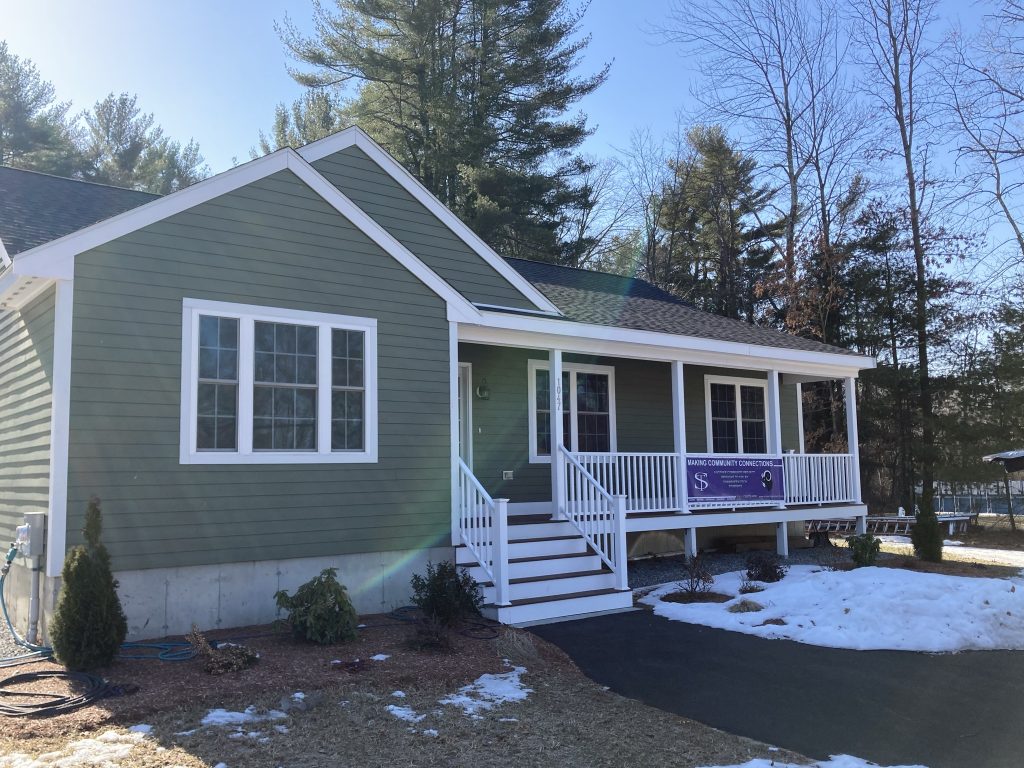 Soldier On together with Tewksbury Home Build, Inc., and the Town of Tewksbury are working together to provide this affordable housing opportunity for veterans.

1047 South Street is a new construction three-bedroom, one-bathroom single family home that has approximately 1300 square feet of living space and sits on a 0.78 acre site.  Tewksbury Home Build, Inc. (formerly Tewksbury Habitat Build, Inc.) (referred to herein as "THB") purchased the property from the Town of Tewksbury through a public RFP process in 2016 as part of a 2.78-acre lot that was subdivided into three lots. The Project is part of a three-home development plan voted on at the Tewksbury Annual Town Meeting on May 4, 2016 and then amended at a Special Town Meeting held on October 4, 2016 to specifically authorize the development of no more than three homes for the purpose of Affordable Housing.  Two of the three homes (1057 South Street and 1067 South Street) were built and sold through a partnership with Habitat of Lowell. The unit at 1047 South Street occupies Lot 3.  The price of the affordable home shall be $270,000.00. 

The affordable unit will have a "Deed Rider" that restricts the amount that the unit can be resold for and requires that the subsequent buyer have a household income at or below 80% of the area median income, at the time of the resale.  The deed rider ensures that the unit stays affordable in perpetuity.

The developer, with the help of the Tewksbury Housing Authority will be sponsoring an application process and lottery to rank the eligible applicants for the program.  The application and lottery process as well as the eligibility requirements are described in this plan.

Interested in filling out an application? Click here to download
Albany, NY
Soldier On and Beacon Cmmmunities are working together on developing a 68-unit project in Albany County, New York. The project which will house both men and women veterans, was recently changed from 70 to 68 units to accommodate the site layout. Beacon Communities is working closely with the Village to ensure the design and site plan will meet development approvals. Beacon Communities has also applied for tax credits in the Spring/Summer 2020 Affordable Housing funding round through New York State's Home and Community Renewal.