Times Union Center hosts concert to benefit Soldier On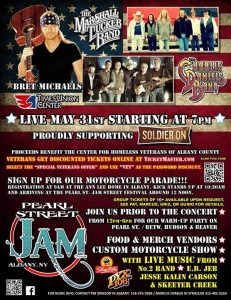 On May 31, the Times Union Center in Albany is hosting a concert to benefit Soldier On and, specifically, their project for a homeless veterans center in Albany. The concert features The Marshall Tucker Band, The Charlie Daniels Band, and Bret Micheaels and will begin at 7pm. Soldier On president/CEO Jack Downing will be addressing the audience during intermission to explain what Soldier On does and the organization's plan to expand housing to Albany. Tickets for the concert are available at Ticketmaster or on the Times Union Center website.
Prior to the concert there will be a motorcycle parade. Registration is at 9am at the Ann Lee Home in Albany. Following the parade there will be a warm up party from 12pm-6pm on Pearl Street. The party will feature live music, food and vendors, and a custom motorcycle show! Visit www.pearlstreetjam.org for more details on the days' events. Please contact Patrick Brisson with questions about the motorcycle parade and warm up party, pbrisson@nycap.rr.com or 518-376-3998.
Contact Maggie Porter with other questions, mporter@wesoldieron.org or 413-441-5728. We hope to see you at the events!