Soldier On's Nathan Hanford Named To Berkshire Magazine's Top "25 Of 2015"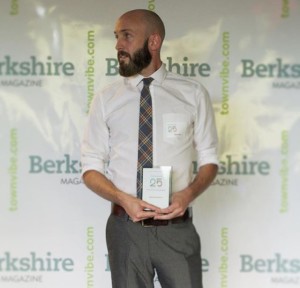 Nathan Hanford, artist in residence for Soldier On, was recently chosen to be among Berkshire Magazine's "The Berkshire 25" for 2015.
Hanford was honored with other award winners at a reception held at The Mount in Lenox, MA on August 28.
This is Berkshire Magazine's second year of honoring a "select" group of individuals for their work in improving and enhancing the Berkshires, which the magazine characterizes as the most dedicated, most creative and most influential persons in their fields. The Berkshire 25 "touch upon the various elements of the Berkshires that make us unique, and they work to improve and enhance our home and its diverse features," the magazine stated in announcing the winners.
Candidates were nominated by readers via Berkshire Magazine's website and winners were chosen by a panel of advisers. Hanford was honored for helping veterans recover from physical and emotional trauma at Soldier On and using his abilities to "go above and beyond."
"It is his full-time work as artist in residence and case manager of Soldier On that is really admired by locals," Berkshire Magazine stated.
Nathan has been a member of the Soldier On staff since October 2013. A multi-skilled artist, Nathan has been able to inspire participation in his group through a flexible arts curriculum in which he brings materials used by the veterans to explore various disciplines of their choice, from painting and drawing to woodcraft and embroidery. Through exercising their creativity, Nathan believes veterans and others can become better equipped to combat the daily struggles of life.