Homeless veterans to move into Chicopee's Chapin School this summer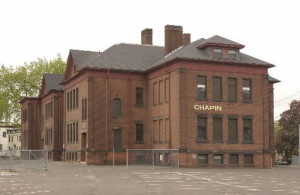 CHICOPEE – Renovations inside and outside of the former Chapin School are progressing and officials are hoping formerly homeless veterans will be able to move in this summer.
"Construction is underway and we are looking for a late June completion," Gary Shepard, president of Soldier On, said.
Soldier On, a Western Massachusetts Agency which provides a wide variety of services for veterans needing help, announced in 2012 that it planned to purchase the old school, located in a triangle-shaped piece of land between Meadow and Chicopee streets, and convert it into housing for homeless veterans.
After years of work to get grants, loans and tax credits, to fund the about $10.5 million renovation, construction began about a year ago, said Joanne Beauregard, controller for Daniel O'Connell and Sons, which has partnered with Soldier On for the project.
The renovations and purchase of the property is being funded with tax credits and different grants so the complex will not have a mortgage when it is completed, she said.
The classrooms in the school are being converted into 43 one-bedroom units which will each have a kitchenette and bathroom. Each unit measures about 500 square feet, Beauregard said.
"We are in the process of identifying veterans who are eligible for the units," she said. "Everyone who qualifies was once homeless and is in temporary housing."
The complex will be run similar to a co-op. Veterans initially pay $2,500 to buy a share in the building and each will pay a monthly rent that that is set under the Housing and Urban Development guidelines for low-income residents.
The money earned through rent is put into an account to pay utilities, property taxes, maintenance costs and other expenses for the building, she said.
Most of the veterans have some type of military benefits or other benefits and are eligible for housing subsidies so they can pay rent. Some also work, Beauregard said.

Soldier On has a number of similar housing complexes in Western Massachusetts and other locations, including one in Northampton and one under construction in Agawam.
The former Chapin School was considered an attractive location for veterans' housing, in part because it is already on a bus line and across the street from Rivers Park.
"We are happy to see a vacant building coming back into use," she said.
The building was originally an elementary school but in 2003 it was closed as a neighborhood school and used for an alternative school. It has been closed since Chicopee Academy moved to a different location in 2005.
Some work, especially on landscaping, will probably continue after residents move into the apartments. Plans call for some of the blacktop that surrounds the building to be removed and replaced with plantings to make it more attractive, she said.