Governor Charlie Baker Visits Soldier On During "Spotlight on Excellence" Tour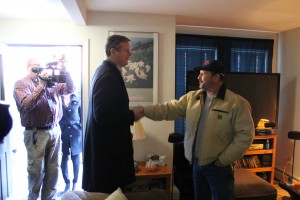 Click here to view more photos.
PITTSFIELD: During a visit to western Massachusetts over the weekend, Governor Charlie Baker and members of his administration met with veterans and staff at Solider On's housing and care facility in Pittsfield.
After touring campus apartments, Governor Charlie Baker sat down with area veterans at Soldier On's transitional housing and homeless shelter. With a mission of ending veteran homelessness, CEO Jack Downing recalled the saying that changed his vision was that every American service member who put on the uniform made a pledge to die for the country.
"I was running a program at the time in 2002 that housed veterans in a shelter and thought used clothing and standing in lines for food was acceptable," Downing said. "When I finally heard 'I will die for you' I realized they deserve to have everything I want for my family."
The 39 units at Soldier On's Gordon Mansfield Veterans Community operate under a model allowing a veteran to own his or her apartment. Downing says the non-profit has found that veterans who have experienced homelessness or addiction feel safe and secure in communities with fellow veterans.
"What we call the 'virus' in our community…people say 'How do people get better here?' and we say 'You got to give them the flu,'" Downing said. "How do you get the flu? You're around people who are sick you get sick. That's what we do here. We say you're around people who are sober and living good lives, you're going to get the virus and you're going to get better."
Downing says they plan to open similar units in Northampton, Agawam, Chicopee, Albany, Jackson, Mississippi and at Fort Monmouth, New Jersey. Francisco Urena is Massachusetts new secretary of veterans' services. The 34-year-old spent eight years in the Marine Corps and has a Purple Heart for injuries suffered when deployed to Iraq.
"I don't belong behind a desk," Urena said. "I belong in the community engaging with our leaders to insure that we are accountable to services, to families and more importantly to our veterans to bring them what they need to succeed. We shouldn't be holding them back."
Governor Baker says he will be constantly asking Urena and Secretary of Housing and Economic Development Jay Ash how Massachusetts can expand programs like Soldier On.
"The problem with the way a lot of stuff in government works is you got services over here and you got housing over here," Baker said. "This distance in between might as well be a country mile or 100 miles. So what ends up happening of course is the people who need the services over here would decompose because they couldn't get to them because the shelter they were in was over here. They'd end up in the hospital and ER here there and everywhere."
According to the U.S. Department of Veterans Affairs, more than 370,000 veterans live in the Bay State. Urena says the main issue for his agency is not a lack of resources, but making people aware of and helping them access available aid.
"Ending homelessness is not just providing the home to folks it's providing the community, the jobs and the services to be able to assist them," Urena said. "Not creating new services or adding more it's connecting the existing services that we have and being able to deliver them in an accountable manner."
Governor Baker's visit to the area days after being sworn in was meaningful for Dave Hastings, the superintendent of Southern Berkshire Regional School District and an Army veteran.
"His being here in the Berkshires sets a great tone, but even more importantly his being here to support veterans and trying to eliminate homelessness within the veteran community," Hastings said. "If that sets a tone for his term I think that'll be absolutely great."
Jim Levulis, WAMC Northeast Public Radio
January 12, 2015
To view article visit http://wamc.org/post/baker-administration-tours-soldier-discussing-veterans-needs.